About Jessica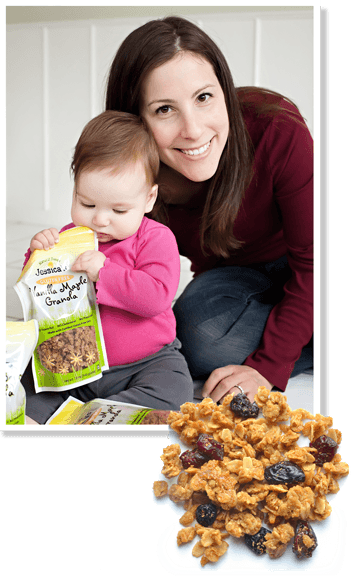 It all started with my passion for natural foods. As an avid baker with a background in engineering, I love the science of cooking. I enjoy spending my weekends trying new recipe combinations: What if I add a dash of this? What if I reduce that? I always bake with simple, pure ingredients. My aim is to create food that is delicious and healthy, food that I feel good about eating and sharing.
They say necessity is the mother of invention.  And that certainly has been true for all our products.  I created the granola when my husband discovered he was gluten-intolerant and said he missed oat-based granola.  Finding gluten free oats was a challenge and finding a certified gluten free facility was even more challenging.  Yet, we finally were able to launch our granola, and in the spring of 2009 Jessica's Natural Foods was born.  Since then our granola has expanded to over 40 states!
I developed our gluten-free flour blend and mixes as a healthier alternative to the starch-filled products on the market. Our kids are gluten-free and I found that most of the gluten-free products on the market contain rice flour and/or a lot of refined starches. We were concerned about them eating too much rice and were inspired to create our own. Our delicious gluten-free flour and mixes are made with the nutrient-dense ancient grain teff, healthy oat and omega-rich flax. They're super easy to make and contain ingredients that most people already have in their kitchen.
As we continue to grow and expand here at Jessica's, we are continually striving to perfect our products and innovate to create new products our family and yours can feel good about eating.  We want to sincerely thank you for believing in us, our products and our vision.